Cinema is a powerful medium, capable of influencing people socially and culturally. With the entertainment factor in hand, it has the ability to empower political, cultural as well as practical matters of the society. The film industry of India is one of the oldest and largest in the world. What began in 1913 is now an intellectually bountiful industry with a huge career opportunity.
Why make a career in the film industry?
Walt Disney said, 'We don't make movies to make money, we make money to make movies.
Film making is not always business, it is more of passion. Cinema is something people won't stop making out of failure, they will keep on doing it out of love. India is the largest producer of films. Let alone Bollywood is valued at approximately a little more than $2 billion with an annual growth rate of 11% With such demands both in the national and international markets, opportunity in the film industry is prodigious. Keeping aside Bollywood, we have the South Indian Film industry, Bengali Film industry, not to be missed the Television industry and the Ad-films industry. These industries do not run single-handedly, they require directors, assistant directors, actors. Major metro cities like Mumbai, Chennai, Kolkata employ great numbers of talented workforce in the television, films and even in the theatre industry.
Eligibility Criteria:
To make a career in the film industry, you need to have technical skills based on your job profile. To be technically trained a 10+2 education is a must from a recognized board of education. Some job profiles require graduation in a related field.
Necessary Attributes:
Not everybody is sculpted for a career in film making. You need to be a brilliant storyteller with a skillful and creative eye to make a firm foot in this arena. You need to remain updated about what is trending and what the public might enjoy.
Film making is a tough job, and success does not come in a day. Only hard work and persistence with loads of creativity, patience, and faith in oneself will help you make your mark.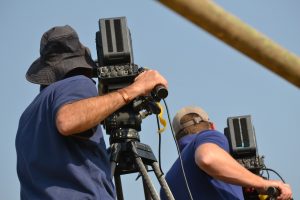 Job profiles in the Indian Film industry:
A successful film does not revolve around just the actors but is the result of the cumulative effort of the team which consists of skilled individuals in various verticals. There are several job profiles in the film industry that requires technical training and skill:
1. Producer :The work of a producer is to oversee the job of all the other workers involved in that project. He is the chief administrator who looks after the business side of the film. His job is to hire the people required. He chooses the story and deals with the marketing strategy; he appoints the cast and the crew, appoints the director. A producer needs to be a graduate in Mass Communication from a film school.
2. Director :a director is a producer's, right-hand man. His work is to translate a producer's idea into actions. He coordinates with all the crew heads, performers, partners, and A director generally acquires a bachelor's or master's degree in Arts in Theatre.
3. Film Editor :the work of a film editor is very similar to a proofreader in a publishing house. His work is to translate a director's vision into a persuasive story that has the power to capture the audience and turn into a profitable project. He works with a cinematographer and a sound editor to sync the visual story with engaging soundtracks that make the film a complete entertaining package.
A bachelor's degree in film production is the minimum educational qualification required to work as a film editor.
4. Screenplay Writer :The job of a screenplay writer is to write dialogues for the actors. He or she is responsible for describing the story in detail , complete with emotions, situations, and environment for the performers to act out.
A graduate or a post-graduate in literature is considered to be proficient in this job role.
5. Cinematographer :Legendary Cinematographer Gordon Willis says, "A Cinematographer is a visual psychiatrist". Their work is to compile the scenes, adjust camera angles and lighting and create a visual impression. Their job is highly technical involving camera, grip department, movement, etc.
A diploma or a degree in cinematography is the basis of entering this field.
6. Actor: The job of an actor is to portray the character of the story. It requires creativity, in-depth research of all the qualities of the character, and then morphing oneself into the mood and environment the shot requires.
There is no formal education required to become an actor. However, a bachelor's degree or an acting certification gives a better scope of achieving the role. A performer is all about skill and talent, but proper training sharpens the skill.
Read: Fashion Careers in India – Future in the fashion Industry
Additional Film-Related Career:
1. Music Director: Indian cinema is not only about drama but it also includes music. Based on the director's vision, a music director plans hires lyricist, music composers, and singers to manage the music segment of the film.
2. Choreographer: A good music is paired up with a good dance number. Filmmakers hire choreographers with dancing skills and experience.
3. Designer: Indian cinema is also a trend maker when it comes to fashion. However, fashion designers need to design clothes according to the personality of the character, the timeline, and the situation. They often travel to rural areas to study the ethnic look for their character.
4. Makeup Artist: Their job is to create new looks and style the actors according to the required scene.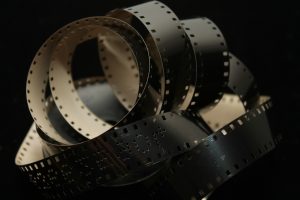 Top 5 Institutes in India to learn Filmmaking:
1. Whistling Woods International
Address: Filmcity Complex, Goregaon (East), Mumbai-400065, Maharashtra, India.
Contact: +91-22-62716070 / 62716175 / 62716000
A reputable institution with Subhash Ghai as its founder; it has an advanced infrastructure and imparts world-class education. The institute has international tie-ups with famous colleges and universities. They have reputed guest faculties like Rakeysh Omprakash Mehra, Imtiaz Ali and a lot more.
Courses Offered:
BSc/BA in Filmmaking with Specializations (3 years) |Advanced Diploma in Filmmaking with Specializations (2 years)
BA in Screenwriting (3 years) | Diploma in Screenwriting (1 year)
BA in Acting (3 years) | Advanced Diploma in Acting (2 years)
BA in Music Production and Composition (3 years)
Admission is based on an aptitude test and a personal interview.
2. Asian Academy of Film and Television
Address: FC-14/15, Sector 16A, Noida Film City, Uttar Pradesh, India.
Contact: +91-120-4831100
Located in Noida and is the best to pursue a career in filmmaking and journalism. AAFT has renowned fellowships like Arjun Kapoor, Rajat Arora and a long of directors and actors as guest faculty.
Courses Offered:
Degree Courses (3 years) –
AAFT also offers short courses of 3 months in Acting and Presentation, Camera and Lighting Techniques, Screenplay writing. For admission, students go through an entrance examination and personal interview.
3. Annapurna College of Film and Media
Address: 8-2-293/82/A, Annapurna Studios, Road Number 2, Banjara Hills, Hyderabad, Telangana 500034.
Contact: 040 4007 3000
This is a recent addition to the leading film schools and is private, non-profit. They have several eminent personalities in their Academic Advisory Board like Kamal Hassan, Shabana Azmi, Karan Johar.
Courses Offered:
Bachelor's degree in Film and Media
Master's in Film and Media
Certificate course in Film Editing, Film Acting, Script Writing.
Admission is based on academic performance, interview, and extra-curricular activities.
4. Film and Television Institute of India
Address: No.11, Law College Rd, Shanti Sheela Society, Erandwane, Pune, Maharashtra 411004
Contact: +91 020-25580000
This is an autonomous institute and has a list of notable alumni like Jaya Bachchan, Nasiruddin Shah, Shabana Azmi, Rajkumar Rao.
Courses Offered:
Film Wing Courses that include Direction, Cinematography, Editing, Screen Writing, and Screen Acting.
Tv Wing Courses that include Direction, Cinematography and Video Editing.
For the admission of new students, entrance examinations along with interviews are conducted.
5. Satyajit Ray Film & Television Institute
Address: E.M. Bypass, Road, Pancha Sayar, Kolkata, West Bengal 700094
Contact: 033 2432 8355
This institute is named after the legendary film maestro Satyajit Ray and has evolved as a hub of creative excellence offering a platform for amateur filmmakers.
Course Offered: Post Graduate Program in Cinema (3 years)
Read More: Artistic Careers in India
For the admission procedure, an aptitude test, a personal interview followed by an interactive orientation is conducted.
Besides these, there are several aspiring universities in other countries that provide good exposure:
American Film Institute, Los Angeles – offers a 2-year graduate program in film making.
New York University Tisch School of the Arts, New York – offers undergraduate as well as graduate programs in film making.
La Femis, Paris – offers undergraduate courses in direction, production, screenwriting, cinematography and many more.
London Film School, London – offers graduate and undergraduate courses in film direction.
California Institute of the Arts (Cal Arts), California – offers a master's course in Film making and Screenwriting.
Indian institutes, as well as international institutes, train you to possess all the degrees and prerequisite skills required for film making. To become a filmmaker, practical experience is essential. You can start by volunteering work with production teams through internships or make budget-friendly short films and publish it in youTube as it is the best social channel to draw recognition.
Find out if you are meant for the Film Industry, consult with online career counselors and chooseCareer Aptitude Test!
I hope this blog helps you with the right amount of information required to make a career in the film industry in India and abroad.