What Is Artificial Intelligence?
Artificial Intelligence could be defined in a broad term as an ultra-smart technology for building machines that can perform human tasks including those that require cognitive and discerning skills. It is a part of computer science that specializes in knowledge engineering. From self – driving cars to chess, AI implementation is so wide that educationists have already predicted Artificial Intelligence as one of the most crucial technologies that can be implemented in every industry to reduce conventional workload.
Why Study Artificial Intelligence?
The world is changing, thanks to the various AI innovations in the 20th century. Industries have already welcomed AI, using it in various ways from increasing customer engagement to streamlining various manufacturing and delivery processes. Machine learning and Robotics are significant branches of AI that are impacting the modern lifestyle in more than one way. They inarguably are creating job opportunities based on disruptive technology but on the flip side, they are culprits in destroying the livelihood of low skilled workers.
So it can be said, implementation of AI in various industries is a challenge as well as an opportunity. The world of AI is still growing. As it says – the early bird catches the worm – this is the time to prepare yourself for future. Considering the fierce job market and the scaling demand, studying Masters in AI will give you a head start to get in a better position in a very short term.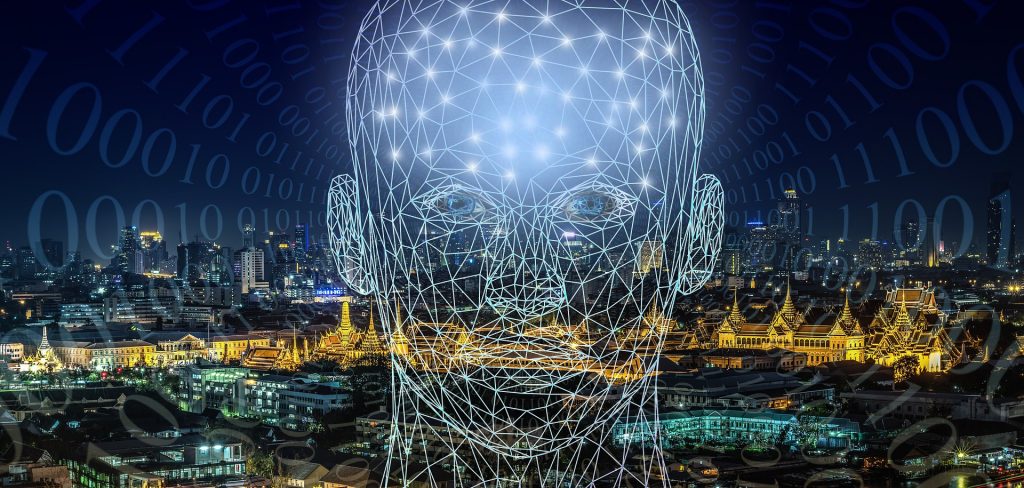 The Emergence Of Artificial Intelligence
The emergence of AI is based on the data economy and machine learning. In the presence of networking sites and 4G & 5G connection, there is an information breakthrough and overflow of both structured and unstructured data from various sources. By 2025, 180 zettabytes of data will be generated as forecasted by International Data Corporation (IDC).
Data is the new oil giving birth to a new economy – Data Economy. The ownership of data and customization of the machine with the data is more insightful. AI is providing self-learning algorithms based on this strategic data or it can be referred to the simulation of human intelligence processes by machines.
AI is already live! You may not have realized it, AI may sound fictional, but we are already living and using it in many ways. Such as:
1. Voice Assistantslike Amazon Alexa, Google Assistant, Apple Siri, and Microsoft Cortana are already recognizing the human voice, interacting with a human, picking songs, movies, even giving intellectual answers.
2. Weather Appsare analyzing reports for a period of time and forecasting weather for a particular place and time.
3. Gmailhas also implemented AI and separating spam mails from important/genuine mails. Also, Gmail is predicting sentences, including greetings in the mail body depending on the type of phrases mostly used by the users.
4. Self – driving caris last but not the least thing we are using, which is an AI-based product. Both Google and Tesla are working on their self – driving car model and are yet to launch commercially.
5. Healthcare units/companieslike IBM Watson are using AI to study the medical background of patients and help in their treatment.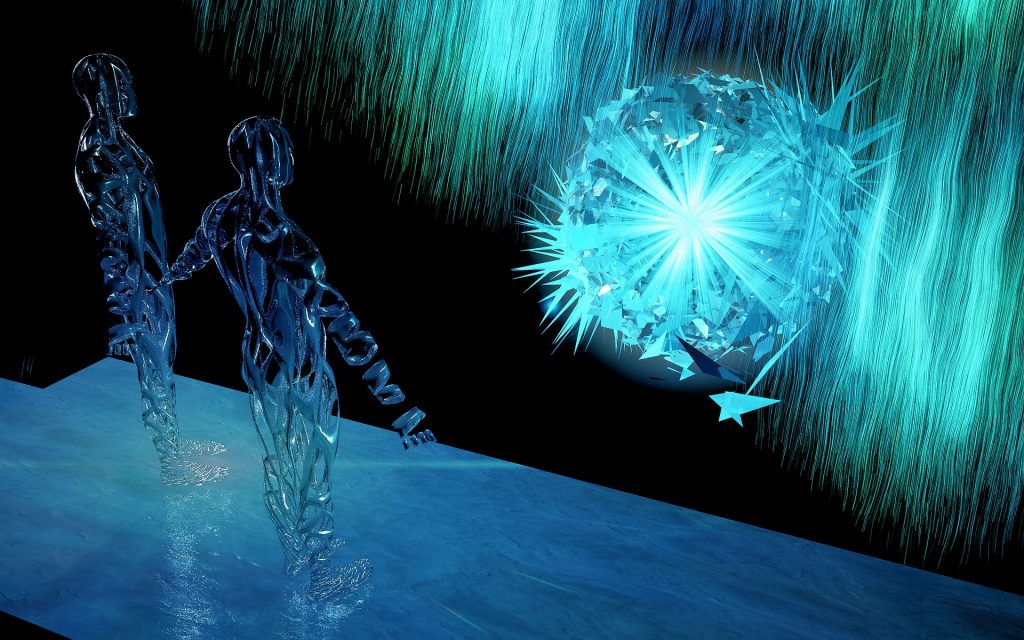 Types Of Artificial Intelligence (AI)
AI is considerably new and still evolving. So far, there are four major types in AI, namely:
1. Reactive Machines:This is the basic type of AI systems. It is a reactive machine that can identify things based on data, but neither has memory nor can use past data to make any current decision. For instance, IBM's chess-playing supercomputer (the old one) identifies pieces on the chessboard but is unable to use its past experience to predict next moves in the game.
2. Theory of Mind:This psychological term refers to a theory that believes that factors like desires, intentions, and beliefs can impact a decision-making process. Today this theorem is one of the most important factors while building machines.
3. Limited Memory:This type of AI can use experience and data to predict future decision. This technology is already integrated into autonomous vehicles.
4. Self – awareness:This type of AI is often found in Sci-fi movies as in self-conscious robots. Machine with self-awareness or "feelings" is still under process.
If you love working with data and have an intuitive mind, AI-related career can be a rewarding experience. Most of the monotonous work like studying, analyzing and data mining are simple yet challenging. There are very few universities in India offering B.Sc and M.Sc. in AI but top engineering colleges are providing B. Tech degrees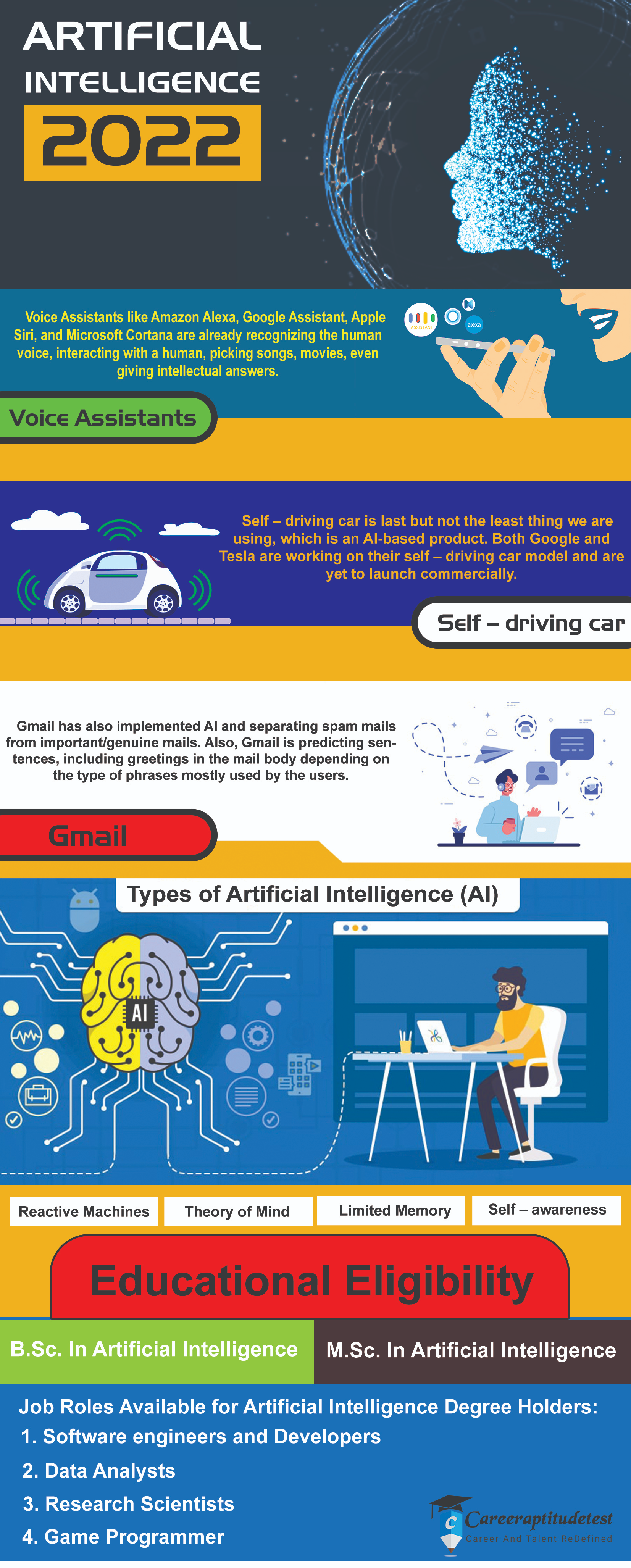 Eligibility
Before choosing AI as your career, make sure that you are good in algebra, calculus, probability, algorithms, and statistics. Your keen understanding of mathematical logic will help you in identifying and applying machine learning algorithms. You should have pursued Mathematics in higher secondary to become eligible for AI course. Knowledge of programming languages like Java and C can give you a head start in AI course.
B.Sc. In Artificial Intelligence: Admission Process
Eligible candidates can apply for AI to various universities. They need to appear to the entrance examination as well as interview rounds. However, the admission process varies for different universities. Qualified students will get the opportunity to study this outstanding course.
Eligibility For M.Sc. In Artificial Intelligence In India
Students wish to continue their career in Artificial Intelligence are required to fulfill the following eligibility criteria.
To pursue M.Sc. a candidate will require a minimum 55% score in their graduation level. B.E and B.Tech. students can also apply for this course along with the B.Sc. degree holders. Mathematics should be one of the main subjects covered by the candidates.
Students who have appeared for their final year's exam are also applicable for this course (provisional basis).
Eligible candidates can submit their applications to the universities and the institutions offering M.Sc. degree in AI. After qualifying entrance exam and group discussion, candidates may also face a personal interview in the final round. GATE (Graduate Aptitude Test in Engineering) qualified students can also apply.
Top 5 Colleges for Master of Science [M.Sc.] (Artificial Intelligence)
1. INDIAN INSTITUTE OF INFORMATION TECHNOLOGY AND MANAGEMENT – KERALA
Website: https://www.iiitmk.ac.in
Address: IIITMK Building, Technopark Rd, Karyavattom, Kazhakkoottam, Kerala 695581
Email Address: Info@iiitmk.ac.in / admission@iiitmk.ac.in
Phone No.:+ 91 471 2527567 + 91 471 2700777 + 91 471 2527568
2. JAWAHARLAL NEHRU TECHNOLOGICAL UNIVERSITY – HYDERABAD
Website: https://jntuh.ac.in
Address: Kukatpally, Hyderabad, Telangana 500085
Email Address: sitinfo@jntuh.ac.in
Phone No.:91-40-32422256 (Reactor)
3. BHARATI VIDYAPEETH (BVP) PUNE
Website: http://bvuniversity.edu.in
Address: LBS Road Next to Alka Talkies 13, Sadashiv Peth, Pune, Maharashtra 411030
Email Address: bvuniversity@yahoo.co.in
Phone No.: +91-20-24407100
4. IGNOU
Website: www.ignou.ac.in
Address: Find local Institute of IGNOU
Email Address: N/A
Phone No.:29572212 (Contact for master's programs)
5. VIT UNIVERSITY
Website: https://vit.ac.in
Address: Gorbachev Rd, Vellore, Tamil Nadu 632014
Email Address: info@vit.ac.in
Phone No.:0416 – 2243091
Top 10 B.Tech. In Artificial Intelligence Programs in India
1. IIT – HYDERABAD
Course: B.Tech. In Artificial Intelligence
Website: https://ai.iith.ac.in/
Address: IITH Main Road, Near NH-65, Sangareddy, Kandi, Telangana 502285
Email Address: ai_office@iith.ac.in / hod_ai@iith.ac.in
Phone No.:040-2301-7064
2. IIT – NAYA RAIPUR
Course: B.Tech. in Data Science and Artificial Intelligence
Website: https://www.iiitnr.ac.in/
Address: Plot No. 7 Sector 24, Near Purkhoti Muktangan, Atal Nagar, Chhattisgarh 493661
Email Address: iiitnr@iiitnr.ac.in
Phone No.:(0771) 2474040
3. GH RAISONI COLLEGE
Course:B.Tech. in Artificial Intelligence
Website: https://ghrce.raisoni.net/
Address: CRPF Gate, No.3, Hingna Rd, Digdoh Hills, Nagpur, Maharashtra 440016
Email Address:Principal.Ghrce@Raisoni.Net
Phone No.:09604787184
4. JAIN UNIVERSITY
Course:B.Tech. in Computer Science and Technology [Artificial Intelligence]
Website:https://set.jainuniversity.ac.in/
Address:#44/4, District Fund Road, Behind Big Bazaar, Jayanagara 9th Block, Bengaluru, Karnataka 560069
Email Address:prince.singh@jaincollege.ac.in
Phone No.:+91 7337618222 / 7337619222
5. SAGE UNIVERSITY
Course:B.Tech. in Artificial Intelligence
Website:https://sageuniversity.in/
Address:Bypass Road, Kailod Kartal, Indore, Madhya Pradesh 452020
Email Address:info@sageuniversity.in / admission@sageuniversity.in
Phone No.:+91 9522578382 / 7509333368 / 9522578482
6. AMRITA VISHWA VIDYAPEETHAM
Course:B. Tech in Computer Science and Engineering [Artificial Intelligence]
Website:https://www.amrita.edu
Address:Amritapuri, Clappana, P O Kollam – 690525, Kerala, India
Email Address:biotech@am.amrita.edu
Phone No.:+91 (476) 280 3002
7. AMITY UNIVERSITY
Course:Integrated B.Tech. + M.Tech. in Artificial Intelligence and Robotics
Website:https://amity.edu/mumbai/
Address:Mumbai – Pune Expressway, Bhatan, Post – Somathne, Panvel, Mumbai, Maharashtra 410206
Email Address:N/A
Phone No.:070457 80127
8. SHARDA UNIVERSITY
Course:B.Tech. in Computer Science [Artificial Learning and Machine Learning]
Website:https://www.sharda.ac.in
Address:Plot No. 32-34, Knowledge Park III, Greater Noida, Uttar Pradesh 201310
Email Address:N/A
Phone No.:+91-120-4570000
9. GREAT LAKE INTERNATIONAL UNIVERSITY
Course:B.Tech. Artificial Intelligence and Machine Learning
Website:https://www.greatlakes.edu.in/chennai/
Address:Dr. Bala V. Balachandar Campus, East Coast Road, Manamai Village ThirukazhukundramTaluk, Kancheepuram District, Tamil Nadu – 603102
Email Address:admissions@greatlakes.edu.in / easwar@greatlakes.edu.in
Phone No.:044-30809017 / +91-7358599107
10. INDRAPRASTHA INSTITUTE OF INFORMATION TECHNOLOGY
Course: B.Tech. in Computer Science and Artificial Intelligence
Website: https://www.iiitd.ac.in
Address: Okhla Industrial Estate, Phase III, Near Govind Puri Metro Station, Shyam Nagar, Okhla Industrial Area, New Delhi, Delhi 110020, India.
Email Address: info@iiitd.ac.in / registrar@iiitd.ac.in / doaa@iiitd.ac.in
Phone No.: 91-11-26907400-7404
Artificial Intelligence: Syllabus And Course
AI syllabus and courses could vary in different institutes and universities. However, most of the universities conduct the AI program in 4 semesters, which is 2 years. In this period, they cover the following topics in their syllabus:
1. Computer Architecture and Organization
2. Data Structure and Algorithm
3. Data Science and Python
4. Mathematics for Machine Learning
5. Machine Learning
6. Database Management System
7. Object-Oriented Programming
8. Fundamentals of Deep Learning
9. Big Data Technologies
10. AI & Knowledge representation
Career Domains and Roles to Explore After Completing Degree Course In AI
While pursuing a career with Artificial Technology, students have a wide job opportunity in various domains, for instance:
1. Private Organizations: From the IT industry to the garment industry the application of AI is wider than you could imagine. Students are readily absorbed by various private organizations from different sectors.
2. Public Organization: Like private organizations, public organizations are also implementing AI technology for customer profiling, health care and much more.
3. Government Research Organizations: Government agencies devoted to research are exploring and implementing AI for the benefit of humanity.
4. Healthcare Facilities: Advance healthcare facilities in India as well as in other countries have a huge demand for Artificial Intelligence work.
5. Military: No doubt the military section is applying AI for various reasons. If you are eligible enough, you can jump for the opportunity.
Job Roles Available For Artificial Intelligence Degree Holders:
Following are the job roles:
1. Software engineers and Developers
2. Data Analysts
3. Research Scientists
4. Game Programmer
5. Algorithm specialist
6. Surgical Technicians
7. Computer Engineers
Read: How to Become a Software Developer without a CS degree
Hope this blog offered you an insight into Artificial Intelligence courses and its prospects in India. If you are interested in Physics and Mathematics in your secondary studies, then AI could be your ideal career option.
Choosing an ideal career may sound difficult (read: too difficult), however, methodical guidance and scientific character analysis can make it simpler. Using psychometric test, Career Aptitude Test could help you determine your right career path.
Have a question regarding AI studies in India? Comment below.